Continuing Education for Spanish Interpreters
English-Spanish Specific Program
MITS understands exactly what busy Spanish medical interpreters need when it comes to continuing education. Unlike traditional monolingual courses, where attendees listen to English lectures for hours, MITS provides the ideal balance of theory and practice.
These self-paced courses are designed to give participants the opportunity to put into practice the concepts presented in these bite-size lessons. The bilingual exercises and innovative approach in these dynamic courses will help you better target your weaker skills. As a result, you'll notice an improvement in your job performance and confidence.  At the same time, you'll earn the CEUs to renew your certification.
All Courses are Approved by
CCHI & The National Board
You can buy these courses individually at $80 each, or in a bundle. More information below. 
Learn more about the most common neurological diseases, its treatments, and diagnostic tests while interpreting these challenging but realistic exercises. You'll also become aware of how these conditions affect the patient's family.
Broaden your knowledge in the field of musculoskeletal medicine. This course will place you into different scenarios for you to interpret in three modalities. You'll gain more vocabulary and improve your interpreting techniques. A fun, yet rigorous course!
In this course, not only will you improve your bilingual vocabulary, but you'll also understand the impact that liver diseases cause in patients' lives. You'll interpret some of the most troubling symptoms, treatments, and prognoses., along with meds and tests.
Interpreting for patients with cardiovascular problems may be challenging because there's a large number of heart conditions and treatments. In this course, you'll be able to strengthen your proficiency and amplify your cardiology jargon.
The engaging visuals and auditory elements in these courses will significantly enhance your learning and retention of medical terminology. You'll be able to practice the pronunciation of medical terms in English and Spanish with our unique audio-glossaries.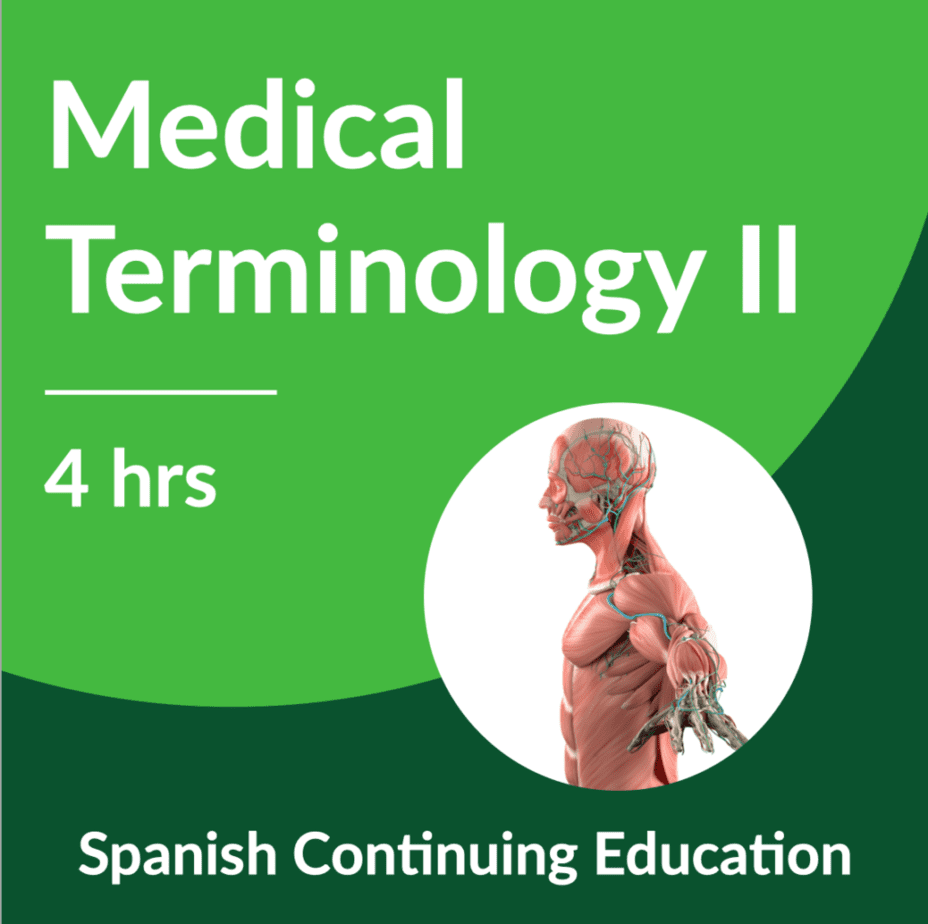 You'll be amazed of how fun and efficient it's to learn medical lingo in these modules. To better assimilate the vocabulary, you will be assisted by memorization and audio exercises with native speakers, self-evaluations, quizzes, and captivating videos.
The goal of this course is to increase your exposure to medical encounters with patients who suffer from renal deficiencies. You'll learn a lot of regionalisms, colloquialisms, as well as many technical terms used in this medical specialty.
In this course, we'll explore the sensitive field of interpreting in mental health. You'll be able to gain more experience by interpreting a group therapy, a one-on-one encounter, and sight translate a document filled with lots of useful psychiatric terms.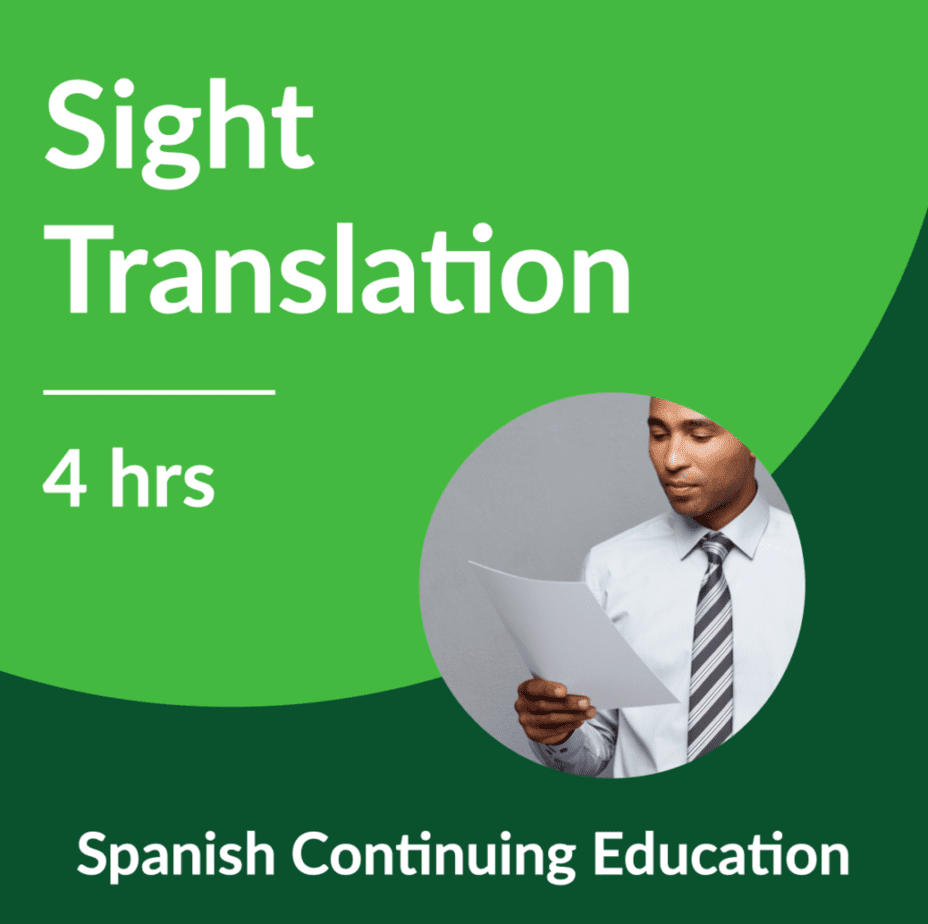 Translating and interpreting at the same time gives you the opportunity to improve your concentration, reformulation, pace, and speech delivery. In this course, you'll find hand-picked exercises that will help you enhance your overall skills.
Juggling two languages at the same time may be intimidating and frustrating for those lacking adequate training, practice, or experience. This course will help you develop strategies and vocabulary to render smoother and more intelligible interpretations.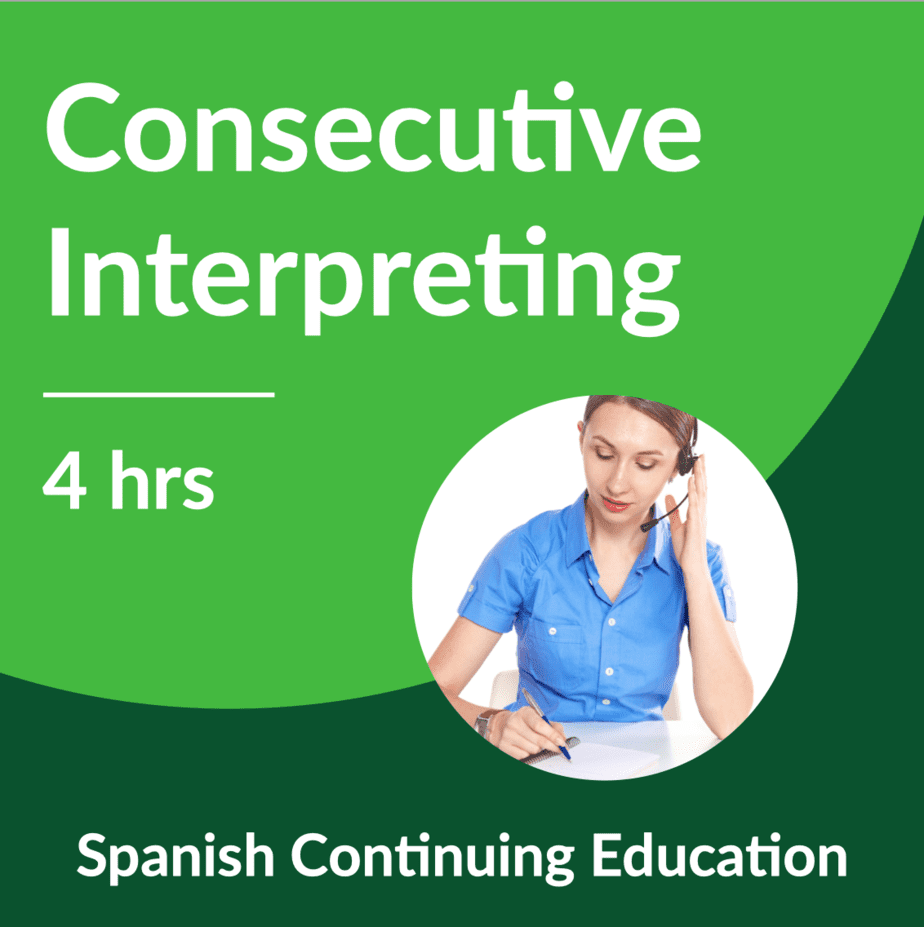 The mastery of this interpreting modality is vital for interpreters working in health care. In this course, you'll practice with many realistic vignettes in several medical specialties that will expand your general knowledge and proficiency.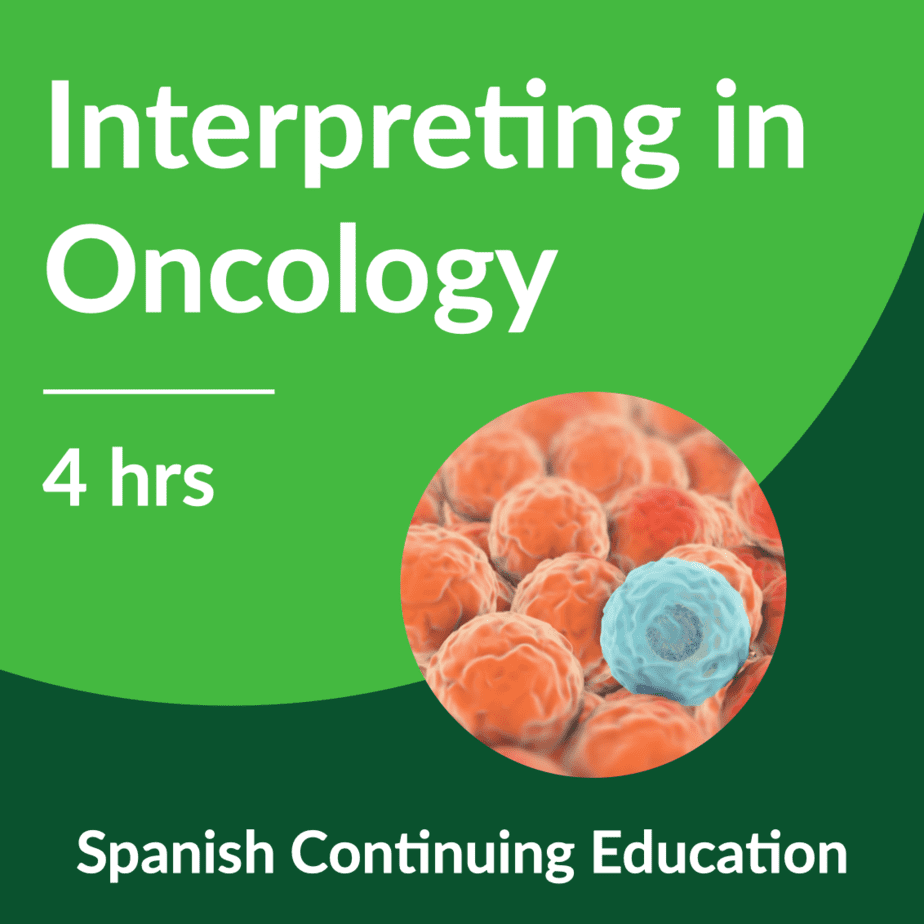 This course will help you develop a deeper understating of the complexity of cancer and its common treatments. You will get acquainted with many core medical terms, colloquialisms, idioms, and euphemisms usually found in oncology interpreting assignments.
Similar to all our courses, this one also offers you the opportunity to hone your craft by self-recording your interpretations and comparing to our suggested model renditions. You'll be able to tailor your learning needs and expand your urology glossary.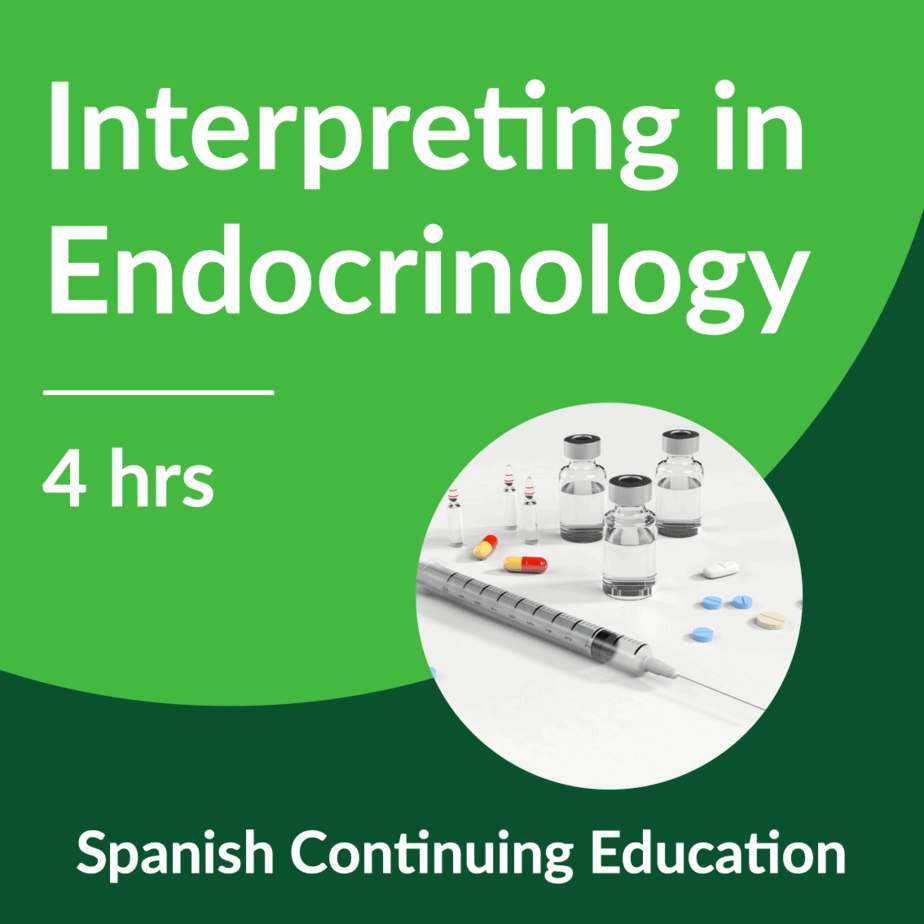 With an increasing rate of Hispanics developing diabetes, it's important to have a firm grasp of the common medications, tests, secondary health conditions, and attitudes involved in these interesting encounters. An essential course for all interpreters.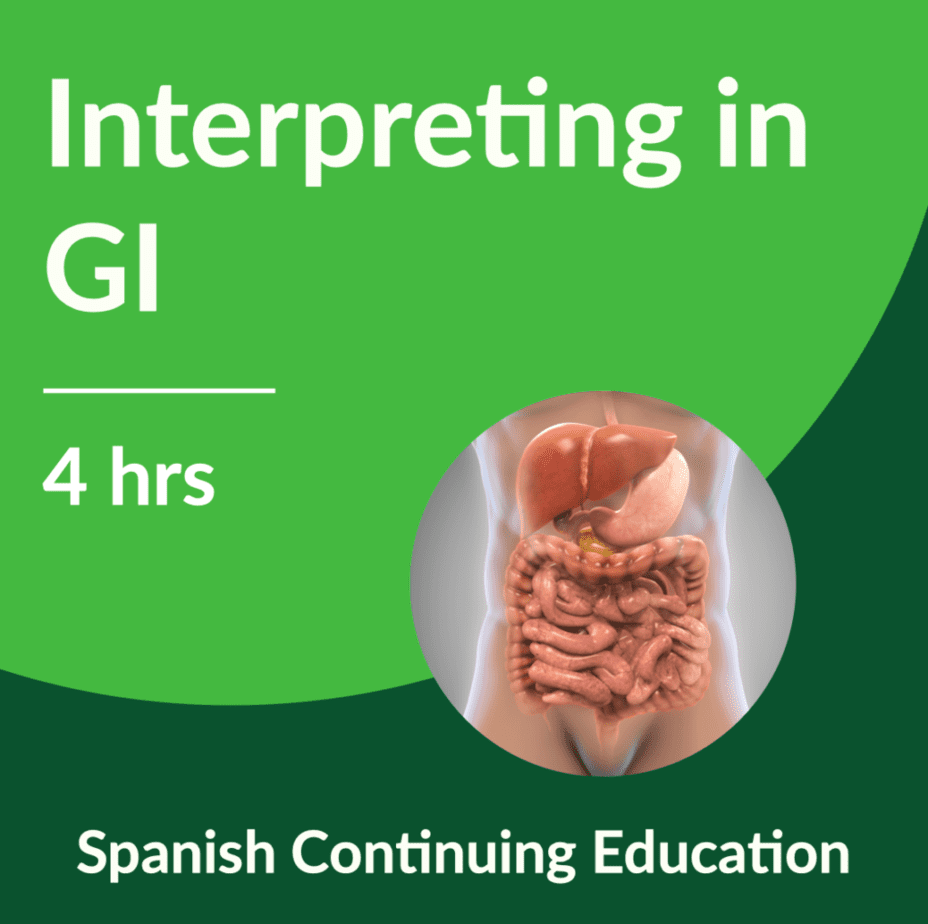 Don't go belly up in these types of assignments. Gain some experience with this new course we're cooking for you. You'll learn a lot of common diseases, symptoms, tests, diagnoses, prognoses and much more. Stay tuned for more information on release date.
Internal Medicine (This fall)
Elevate your ability to bridge communication gaps in the realm of internal medicine with our performance-based exercises. Immerse yourself in hands-on exercises that will sharpen your language proficiency and deepen your understanding of an effective rendition.
You will receive four (4) hours of performance-based
credit upon completion of any course
Choose a single course at a time or purchase a bundle of courses at a discounted price.  After purchasing a bundle, you'll receive a personal coupon code to select your courses from the catalogue above. Your code will not expire until you use it for your last course. You can select your courses whenever you wish. After choosing one course, you will have three months to complete the 4 hours of training. It's as simple as purchasing a gift-card, you use when you want it. 
Single 4-hr Course
Get one by one
16-hour bundle
Get four courses to save
$
250
3 months of access per course
Cover your first two years to renew your certification
32-hour bundle
Get eight courses to save
$
500
3 months of access per course
All the hours you need to renew
"I highly recommend David as an instructor. He only teaches medical interpreting and he is a true master; he has so many "flight hours" in the trenches. He really knows the field and you would greatly benefit from his expertise."
"These courses allowed me to further expand my previous knowledge having gained a bachelors in Spanish. I wanted to challenge myself, enrich my Spanish vocabulary and gain overall a better understanding for interpreting."
"MITS has been my saving grace on all my Medical appointments. I am respected among my colleagues and I am viewed at work as a strong, professional interpreter. When my colleagues ask me, after seeing me study in the hospital sometimes, where I study at, I always say MITS"