Four hours of Continuing Ed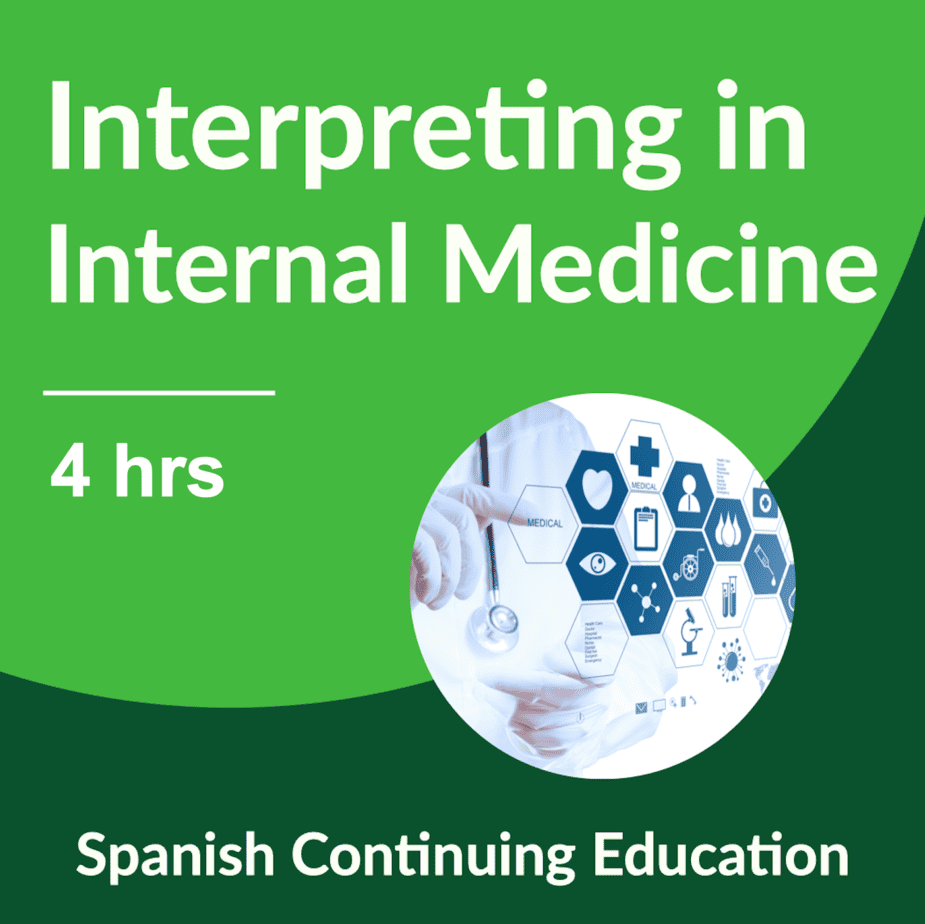 Dive into a variety of challenging interpreting scenarios designed to elevate your skills in both simultaneous and consecutive modes. The goal is to enhance your vocabulary and fine-tune your interpreting techniques—a delightful yet demanding journey!
Boost your interpreting prowess and expand your knowledge with a personalized self-learning plan. This allows you to assess your performance and customize your English and Spanish glossaries to perfection.
Upon completing this course, you will:
1. Navigate challenging interpreting assignments with increased skill.
2. Articulate and pronounce unfamiliar words and terms accurately.
3. Identify medical terms and abbreviations associated with internal medicine.
4. Handle cultural and idiomatic challenges like idioms and colloquialisms with ease.
Get a bundle courses for savings and added motivation to complete your continuing education. Take a look at the options below.
If you already purchased a bundle and want to take this course, please click on Enroll Now. Use your coupon code at checkout.
Single 4-hr course
Get only one course
Choose only this 4-hr. course
16-hour package
Get four courses to save
$
250
3 months of access per course
Cover your first two years to renew your certification
32-hour package
Get eight courses to save
$
500
3 months of access per course
All the hours you need to renew
" I decided to pay for one of the sessions and find out for myself—it was all worth it and I loved it—I plan to take additional courses. The page was very easy to navigate, the course was very informative, keeps us up to date with different scenarios, and makes you practice, which at the same time makes you more confident during interpretations."
"So far I've taken over 20 hours of continuing education at MITS because these classes help me improve my interpreting skills, vocabulary, listening skills and a lot more. I recommend my colleagues to be prepared because these classes are challenging! I'm looking forward to completing all my CEUs at MITS as they release more classes."
"This was a great opportunity for me. I lost my job and needed something to do and a change of career. While I was out of work I went with relatives to help them as an interpreter and I was told by several healthcare providers how good and clear I interpret. I realized this is something I was enjoying do it why not make it my new career. Thank you MITS for creating this opportunity for me and many other people."